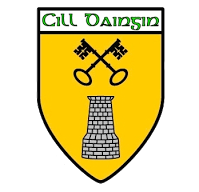 Kildangan v Sarsfields     Senior Reserve D Championship      20th September 2020
After months of training and little game time under their belts our seniors took on Sarsfields in round 2 of the Joe Fox Tool and Plant Hire Reserve D Championship last night in Sarsfields and a strong performance from the lads ensured a comfortable 10 point victory and 2 wins from 2 in the group stages, finishing 3rd overall and securing a place in the semi-final.
The heat of the day was replaced by a light breeze making for great conditions for the game. Sarsfields opened the scoring and led by three points, adding to their tally through 2 points from play and a converted free but it didn't take long for Kildangan to reply opening their scoring through a converted free from Jack and a point from Daniel. Sarsfields dominated for a short period having a goal chance deflect off the cross bar but overall leading by 3, before great passing between Daniel and Padraig ended with Padraig leaving the ball in the back of the Sarsfields net, leaving the score level 1-2 to 0-5. Kildangan kept going, aiming to carry a lead into the break and did so through a point from Robert and another goal added through Dara after the ball bounced over the Sarsfields keeper.
The hard work from Kildangan paid off as they held a 3 point lead at half time, with the score line standing at 2-4 to 0-7.
Kildangan continued to work hard after half time, adding points through Dara and Conor and a free converted by Jack. Sarsfield managed to add a further 2 points to their tally before they suffered a black card leaving Kildangan to dominate the rest of the second half. Dermot worked hard to win back a lost ball before Bryan kicked it over. Three further points from Dan and another from Adam left the score 2-13 to 0-10. Kildangan's final point came from Conor leaving the final score 2-14 to 0-10.
Overall, it was a strong team performance from defense to attack, a well prepared Kildangan side who were determined to succeed, seeking reward for their training. The hard work paid off, leaving them 3rd in the group and now they prepare to face Two Mile House next Sunday evening at 5:30pm in Hawkfield.
Photos from the game are now available through the following link....https://flickriver.com/photos/kildangangaa/